When we receive the e-mail from Frida the BarkBox Mail Dog to let us know our BarkBox is on the way, I always tell Jesse he will be receiving his surprise box soon. He gives me the cutest head tilt in response, and we wait patiently for the box to arrive in our mailbox.
One thing Jesse and I like to do, is take a nice stroll around the park on our way to check the mail. Jesse gets to check all the new interesting smells left by the other neighborhood dogs, and its a great way to get in some exercise while adding a longer trail instead of just heading straight for the mail. When I open the mailbox, and the BarkBox is inside, Jesse likes to give it a long intent sniff. I think he is trying to guess what is inside the box before we open it.
We then take the long way back home around the park.
The BarkBox comes in different sizes each time.
The size depends on the number (and size) of the various items inside the box.
Jesse likes helping me open the box (sometimes he uses his paws, other times he uses his teeth). Once opened, he will look inside at all the items. He likes to pick out the treats and bring them to me to ask for one. :)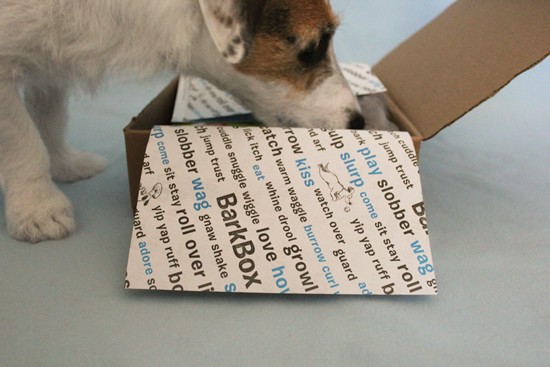 Our September BarkBox came with a Shark Plush Rope Toy, Pizza Bone Treats, a bottle of Spray on Liquid Bandage for Dogs, and Duck Training Treats. We also received a post card with more information about each item, along with the companies that make them.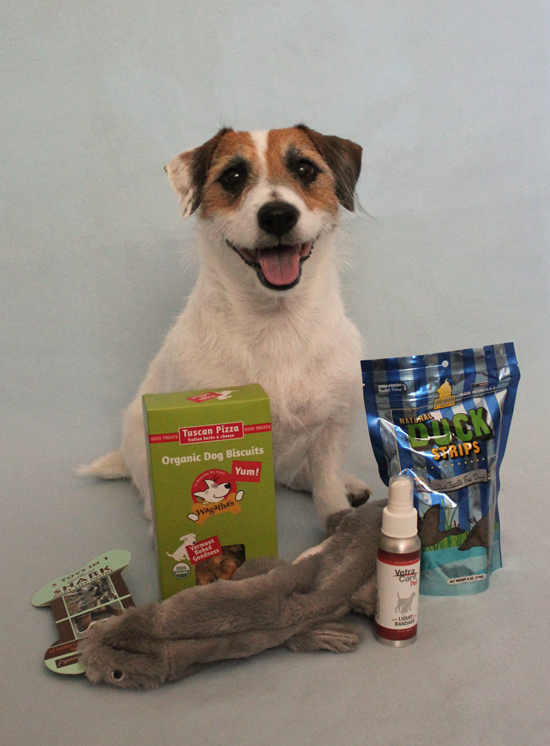 The Shark Plush Rope Toy is from Aussie Naturals; featuring a rope toy throughout the body, with squeakers, and a stuffing-free inside. Jesse loves tugging, and this shark toy was a great candidate for playing tug! Throwing it around, and even using it for a lure made Jesse all the happier to play with it. I'd say this toy was a big hit with Jesse (especially with the 2 squeakers inside).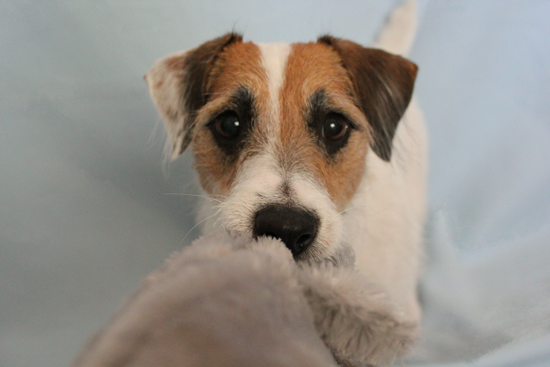 The Pizza Bones Treats are made by Wagatha's and are 100% USDA organic. Being wheat, corn, and soy free is also a plus! When I opened these treats, boy did I have a fan! Jesse was really interested in these, and after I smelt them I could understand why; they smelt just like pizza.
Jesse loves treats, and will gladly offer tricks just to get them. :)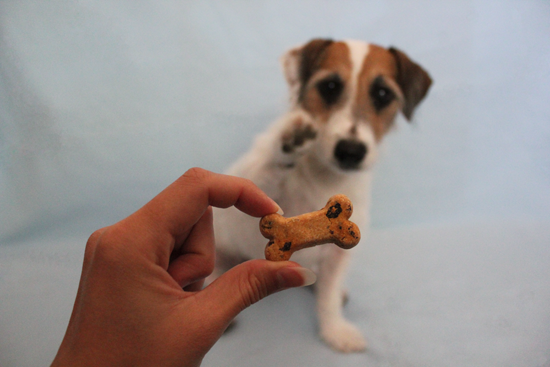 The bottle of Liquid Bandage for Dogs is a really interesting item made by VetraCare Pet. Not only does the Liquid Bandage protect cuts and scrapes, but it also disinfects! I know this will definitely come in handy on trips to the lake, hiking, the beach, or about town if Jesse gets a cut or scrape.
I am sure Jesse would show me where the cut is if need be. :)
The Duck Training Treats are made by Plato. Duck is a protein that is usually a big hit with dogs who have allergies or are a little picky when it comes to treats. Jesse is a food gourmand and will gladly try any food if you offer it to him! Although he is not a fan of cold broccoli (steamed broccoli though, is another story).
Since the theme of the September BarkBox was keeping the mind stimulated through being happily occupied (going along with back to school), Jesse decided to show off one of his favorite tricks for a Duck treat. :)
While there are many monthly subscription box for dogs right now, I think BarkBox is Jesse's favorite. Our favorite features? The items are full sized, and different each month. This adds a fun surprise element to getting our monthly BarkBox.
We've had BarkBox for a couple of months now, and I have to say, we are impressed with the variety of what is in the box. We have been introduced to some really cool products we had never even heard of, and some of the treats have quickly become another one of Jesse's favorites.
We are looking forward to next month's BarkBox and can't wait to see what is in store for October. :)
☆Stay Happy and Healthy!☆