Jesse and I recently had the opportunity to review a new product called PetBox.
What makes the PetBox unique, is that they are the first monthly delivery service that is fully customizable, and has expanded service to dogs and cats. They also ship out your box the next day when you sign up; allowing you to receive your items right away, instead of having to wait until a certain date. PetBox only chooses items that are high-quality and healthy to include in their boxes.
Jesse and I received our PetBox, and right away Jesse knew this package was for him!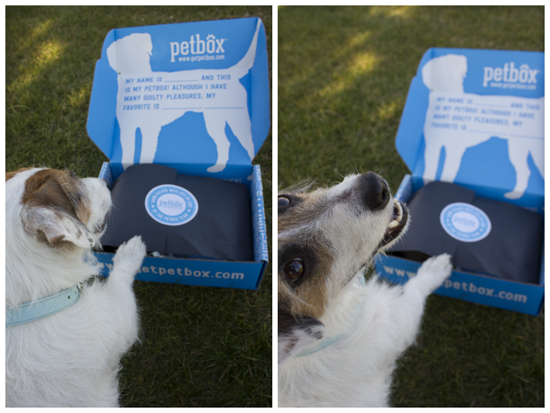 "Can we open it now, Mom?"
I really liked the colors and packaging of the box; the light blue box with accenting white writing looked very cool. Inside the box, you can fill in your dog's name and favorite activities. I thought this was a nice touch.
In our PetBox we received a rope duck toy from Aussie Naturals, Sliders Chicken & Cheddar Treats, Healthy Dogma Pumpkin Ginger biscuits, Honest Kitchen Chicken & Cranberry Smooches treats, NoviPet Multi Vitamins, Sliders Beef & Cheddar Tender Stikz Jerky, Keep Doggie Safe Pet Rescue Decal, and Earth Heart Canine Calm Spray.
First up was the Aussie Naturals Rope Duck Toy. Jesse thought this toy was awesome! He would chase it, shake it, tug it, and throw it around; then bring it back for me to throw it again. =o)
Here is some information from Aussie Naturals about the Duck Toy:
"High tensile strength Jutey Cotton rope makes up his neck and legs, over which layers of Jute Fabric cover a body filled with Coconut Fiber. It is all topped off with Jute Fabric Wings and a ridiculously tough Leather Head for a mixture of scents & textures that is hard to kill. All ABO Gear – Aussie Naturals products are tested by Atlanta's Toughest Rescue Dogs. www.aussienaturals.us ($14.99 Retail)"
Next up was the Sliders Treats and Tender Jerky Stikz. These treats are both made by Clear Conscience Pet Company.
The Chicken and Cheddar Flavored treats were a big hit! They are moist treats, which makes it easy to break them up into smaller treats to use as training treats, or to put inside of a doggie puzzle. Jesse was very happy to eat these, and asked for seconds.
The Sliders Beef and Cheddar Tender Stikz Jerky also made Jesse a happy camper. He helped me unwrap the treat. The jerky could easily be broken into smaller treats, but Jesse was just as happy to eat the whole jerky stick; holding it between his paws like a bone.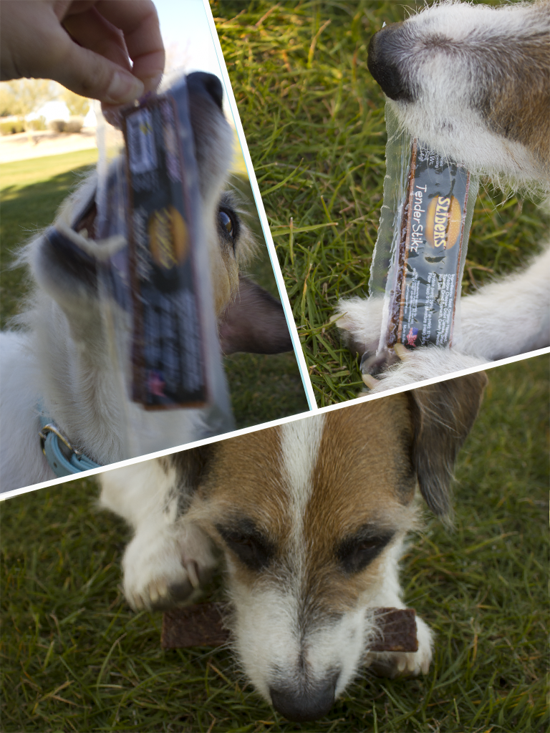 Here is some information about the Sliders & Tenderstikz from Clear Conscience Pet.
"These are the first tender moist pet treats with NO glycerin or "vegetable" glycerin, NO propylene glycol, and NO sugars or syrups. Some or all of these ingredients are used as preservatives in virtually every moist pet treat on the market, even those that call themselves "all natural." And because it's a Clear Conscience product, of course you WON'T find any grains, gluten meals, or other high carb "fillers." www.clearconsciencepet.com ($11.99 Retail)"
The Healthy Dogma Pumpkin Ginger biscuits not only smelt delicious, but they came in adorable packaging too! I really liked the size of these treats: tiny bone shaped biscuits. Another treat that you could use as a training reward, hide-and-seek game, or even as a just because (and not feel guilty for giving them, as they are so small, one doesn't really count as a treat ;o) ). The treats are also low-fat and Jesse really enjoyed them.
The Honest Kitchen Chicken & Cranberry Smooches treats were another pleasing treat. Honest Kitchen is a dog food company that receives high praise from us. Jesse not only enjoys their dehydrated foods, but he is also a fan of their Wishes Chews, and their Ice Pups. The one thing I love about Honest Kitchen's products is that they will let you know upfront all the ingredients in their food. When I saw the Honest Kitchen Smooches, I knew Jesse wasn't going to be disappointed. He started drooling while waiting for me to open them to give him one! The treats made into a heart made them even cuter!
Here is some more information about the Smooches from Honest Kitchen:
"
Smooches are made with all human grade ingredients. These gourmet healthy dog treats are delicious and popular with even the fussiest hounds. Each treat is individually crafted into a little heart. Plus, each smooch contains just 2.3 calories. Share these low calorie dog treats often! Ingredients are 100 percent human grade barley flour, USDA chicken, molasses, filtered water, eggs, organic virgin coconut oil, cranberries, aged parmesan cheese. No artificial preservatives, flavors or colors whatsoever. www.thehonestkitchen.com ($7.99 Retail)"
The NoviPet Multi Vitamins were really neat. Most vitamins are in pill form, or a power; making them un-palatable to dogs. The NoviPet Vitamins are made into nice moist treats and have a chicken smell to them. Jesse really loved these vitamins! He couldn't wait for me to break the treat in half, and gobbled it up with delight.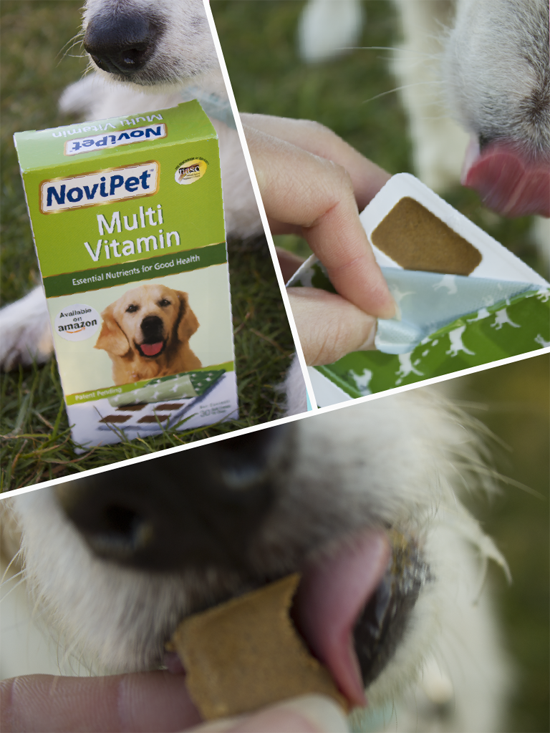 Here is some more information from NoviPet about their Multi Vitamin:
"NoviPet is an innovative developer of high-quality nutrition and health products for pets. Backed by over four decades of international experience, NoviPet was launched with one sole purpose: to make healthy supplements tasty and fun for dogs and cats, just like treats. NoviPet Multi Vitamin Chews for Dogs provides the essential nutrients for optimal pet health. Animals in the wild are free to forage and hunt, allowing them access to a wide variety of dietary sources. In contrast, domestic pets rely solely on their owners and do not have the benefit of self-feeding. This reality can put our pets at risk of vitamin or mineral deficiency, resulting in poor coat and additional undesirable conditions. Regular use of NoviPet Multi Vitamin provides dogs with the vitamins and minerals they need and provides owners with the peace of mind they want.
The Pet Rescue Decal from Keep Doggie Safe was a really cool addition to the PetBox. When placed in a window, they let rescuers know to save your dog or cat in case of an emergency.
Here is some more information about the Pet Rescue Decal from Keep Doggie Safe:
"
Rescue responders need to know your pet's name in a hurry. And equally importantly, they need your phone and your vet's phone number. That's why these stickers are specially made for you to write down this critical information. And they are created & designed in the USA! The Rescue Decal is a weatherproof window decal intended for exterior use. In case of fire or other emergency at your house, this is a way to notify emergency workers that there are pets inside your house that need to be rescued. These decals easily cling to your window without causing damage. www.keepdoggiesafe.com (
$5.99 Retail)"
The last item was a Canine Calm Spray from Earth Heart. This spray had a nice scent to it, not too over powering. The spray is supposed to help relax and calm your dog in stressful situations; creating a nice and relaxing environment for your dog. I think this product would be nice to use in conjunction with the relaxing music I already have for Jesse.
Here is some more information about the Canine Calm Spray from Earth Heart:
"Canine Calm contains pure essential oils traditionally used for relaxation. The essential oil concentrate can help create a calming environment when diffused in the home, kennel, spa or clinic. This family friendly product is safely diluted for use with puppies from 8 weeks old. Canine Calm is made in the USA. The natural remedy mist is packaged in a BPA free recyclable container. Dog lovers and professionals recommend Canine Calm as a safe and effective natural remedy for over 90% of dogs who experience whimpering, cowering, trembling, panting, pacing, drooling, barking, shaking, vomiting and other signs of upset during non-routine activities, and fearful or unsettling times. www.earthheartinc.com (

$12.99 Retail)"
Jesse and I really enjoyed the contents of the PetBox. They included great products in their box. I had heard of a few of them before, but most of were new to us.
I understand a lot of consumers like to have the customization option of what is in their PetBox, but I personally really enjoy the surprise of not knowing what will be delivered each month. This also opens up doorways to trying out a new product that I might not have even heard of. We are always up for looking into different products; making it that more exciting when the contents inside are random. All in all, Jesse and I give the PetBox two paws up =o)
Interested in trying out PetBox for your best friend? Here is PetBox's Official Website:
Use the code "JESSE20" to get 20% off =o)
~Heather and Jesse~