What drew me to the Jack Russell Terrier? Their abundant personality, charm, energy level, heart, spirit, zest for life, and their absolute love for adventure. They are just bursting with excitement and spirit. I have been blessed with a little angel on four paws; Jesse. His name fits him perfectly; "Gift from God." He truly is a gift sent from heaven above.
He has taught me so much, and has been such an inspiration, that I am forever grateful to him. Jesse is my best friend, Heart dog, soul puppy, and truly a member of the family. Any activity is 100% better when he is right there by my side, ready to join in on the fun. I just love his willingness to help out with any activity; whether we are going for a car ride, or doing something as simple as taking out the trash.
Jesse loves to be my little shadow. Wherever I am, you can be sure that Jesse is not far behind. When I am sitting on the sofa, he likes to lay on the back of the couch and knead my shoulders with his paws. He will also poke me with his nose while I am in the kitchen to let me know he is there; then he will proceed to lay on top of my feet.
Jesse is extremely intelligent, and amazes me every day. I love how he listens to what you are saying, and will stare soulfully into your eyes to understand the message being sent. The quizzical look he gives when he hears a word he knows is just the cutest. When I ask him if he wants some goat's milk, he will then proceed to wag his tail and give me a kiss to let me know that his answer is yes.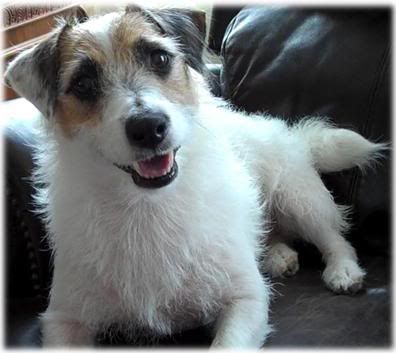 I ♥ his inexhaustible supply of energy that he uses to do the things he loves such as running full throttle after a ball or Frisbee, digging to his heart's content in search of rodents, playing catch with a racquet ball, and showing off his tricks with a smile on his face, and a skip in his step.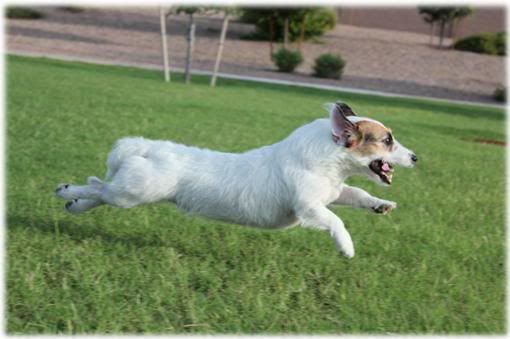 I love it when he brings me his Cuz ball, ready for a nice game of fetch. Sometimes he will lose his ball under the couch or television set, and will use his paws to try and get it out; asking for help with a "woof" if it is beyond retrieval. His ability to de-squeak his toys is unmatched; earning himself the nickname Squeaker. =o) Balloons are in peril when Jesse is around, as he will seek out and destroy them; shaking their lifeless bodies to make sure they are dead.
When playing a game of tug-of-war, Jesse will give you a run for your money. Growling cute little puppy growls, he will shake the toy in an effort to get you to lose your grip. Having won, he will then prance around with his prize in his mouth and a huge grin on his face.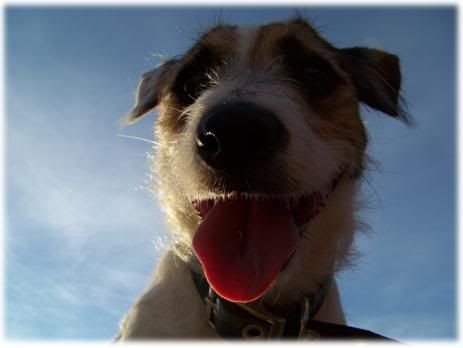 Jesse's love of water provides endless entertainment. He will attack the water squirting out of the hose; jumping and biting in midair aerobics. When swimming in the pool, Jesse will launch himself off of the waterfall; looking just like a little Super Hero.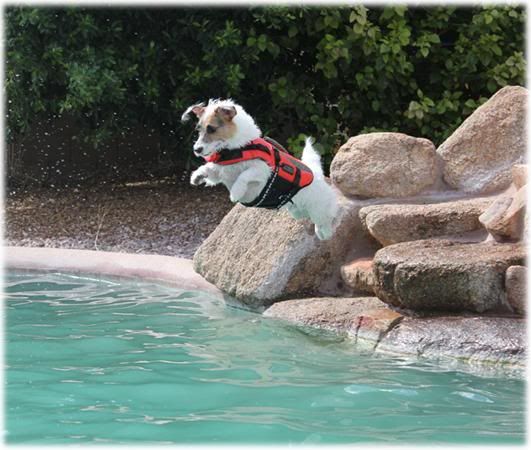 I absolutely love Jesse's puppy antics, and his interaction with things that spark his interest. For example, when I am writing with a retractable pen, he will nibble ever so gently on the pen cap with his teeth. If I put the pen on paper, he makes the cutest little Jesse scribbles. =o)
Jesse loves to sleep under the covers, with his head on the pillow. One of my favorite things is to wake up to a little terrier nudging me with his nose. He then puts his ears back into what we affectionately call his hound ears, and wiggles his little tail back and forth; all the while giving cute puppy kisses.
I just ♥ Jesse's playful spirit and cheerful attitude. His expression just radiates happiness and soulfulness. The way he prances around with an air of confidence and poise is just too cute.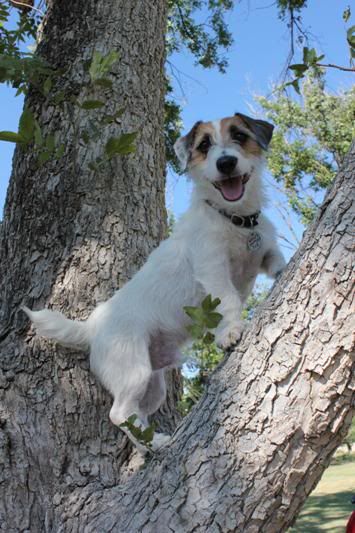 Jack Russell Terriers are extremely intelligent dogs, and I definitely believe they are the world's smartest dogs. I ♥ my crazy little JRT, and I wouldn't have it any other way =o)
I love my little Jesse with every beat of my heart. I cannot imagine my life without him; he is absolutely perfect. ♥♥♥