Play is the best way to make friendships and strengthen bonds; and I can't say how important that is for our canine companions too. Not only is playing games with humans and canines important, but it is also beneficial for our dogs to be able to play with their canine buddies.
Dogs who live in the same household benefit greatly when they get to enjoy many activities together, rather than being segregated or simply co-existing. They learn a lot about each other through play, daily activities, and group rituals; which help each member become part of the family.
From day 1, Lucky wanted to play with Jesse. He would wag his tiny tail and bounce around when he saw Jesse, but Jesse wasn't too thrilled with a little ball of fluff chasing him around, playing with his tail, and sometimes trying to suckle from him. He would give me that look of "Really mom? You want me to play with THIS!?"
Of course, all that changed when one day I caught Jesse playing with Lucky. They were cuddling and play wrestling, but as soon as I got my camera, Jesse would pretend he wasn't even looking at Lucky. As Lucky grew bigger, and started joining in on Jesse's other activities, Jesse started to let Lucky do the little brother activities he had originally walked away from.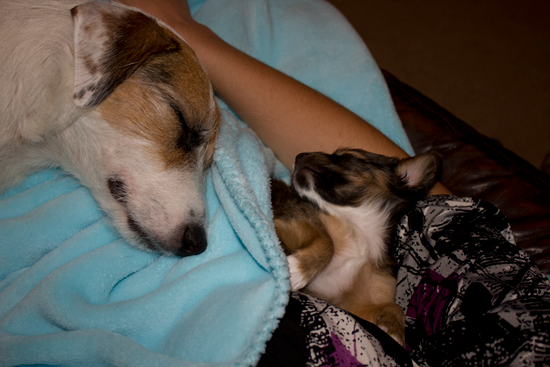 One of the games that these two play is the chase game. It is always entertaining to see who will chase who, and how they will incorporate the room into their game. Lucky likes to use the environment to his advantage, and Jesse will try to find the shortest way possible to reach Lucky.
Here is one of the many games Jesse and Lucky play: The Chase Game
I also have some really cute footage of these two wrestling, and will make a future video of their adorable antics.
♥
Lucky is also quite the talented little guy, knowing many tricks as early as 6 weeks old. Not only is this little guy smart, but he is a well-rounded, sweet, and sociable pup.
Here is a short video of some of his talents:
I love watching Jesse play. It is fascinating to me that he will accommodate his style to whichever dog he is playing with. His play style is much different when he plays with Kaine than with Lucky. This always makes play interesting and fun. =o)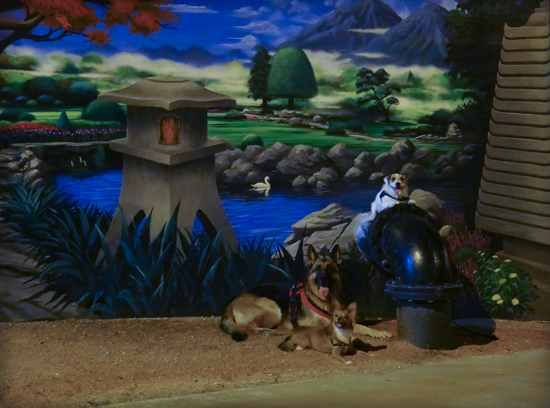 Don't forget one of the most important and simple pleasures of life;
Get out there and Play with your Dog!
~Heather and Jesse~