Jesse and I have been really busy working on our newest trick video!
We have some amazing tricks in this one, and can't wait to show everyone when we have it finished =o)
Here are a few sneak peek shots from it:
Jesse looking over his shoulder, waiting for me to ask him to do a trick.
Jesse doing his walking hand stand while I tape him with the GoPro

♥
Jesse and I just finished jump roping, and he gave me a kiss
♥
Jesse chasing me after doing a somersault. I love Jesse's happy smile in this picture

♥
We also have a lot of very exciting news to share, but will do so in a future blog post, along with pictures.
With Thanksgiving this month, Jesse and I were looking forward to our November Bark Box;
and I know Jesse wasn't disappointed with what came this month!
The November Bark Box came with some really cool items including a Zucchini plush toy, package of N-Bones, Bocce's Bakery Biscuits, Turkey Sausages, and a deer chewie.
The first item was a cute Zucchini plush toy from Pet Lifestyle And You (P.L.A.Y.). I had seen the awesome bed's made by this company, but didn't know they made dog toys as well. There is a really cool bed they make that I have been thinking of getting Jesse for a gift, and we might get it with the coupon we received in this month's Bark Box for $15 off a future order.
What is really nice about this toy is that it is a handmade toy, and is made with production standards that rival those for infant and children products. This is a big plus for us! The stuffing is also made from 100% post-consumer recycled bottles.
The second item was a package of two bones made by N-Bone. These ones were vanilla mint flavor; and boy Jesse didn't need encouragement to eat them!
Being all-natural and wheat, corn, and soy free is awesome. I am sure we will get some more of these in the future for Jesse (it also helps that there is an adorable Jack Russell Terrier on the packaging =o) )
The third item was Truffle Mac and Cheese Biscuits made by Bocce's Bakery. These smelt delicious! Jesse was drooling while I opened the package to give him one. A plus for these treats is that they are wheat-free and free of preservatives. The ingredients used include turkey bacon, cheese, and even truffles! (they are local organic ingredients too).
The fourth item was Turkey Sausage treats made by Happy Howie's. Jesse was a big fan of these treats; and they looked like something straight out of a doggie TV Show (the ones you would see the dogs steal from the butcher's shop).
These can easily be broken up into smaller treats to be used in training, or given as a big reward for a job well done.
The fifth item was a deer chewie from Etta Says. The novel protein source makes these good for dogs with allergies. Jesse loved this treat as well; happily gobbling it up. These looked like chewgars; Jesse thought so too ;o)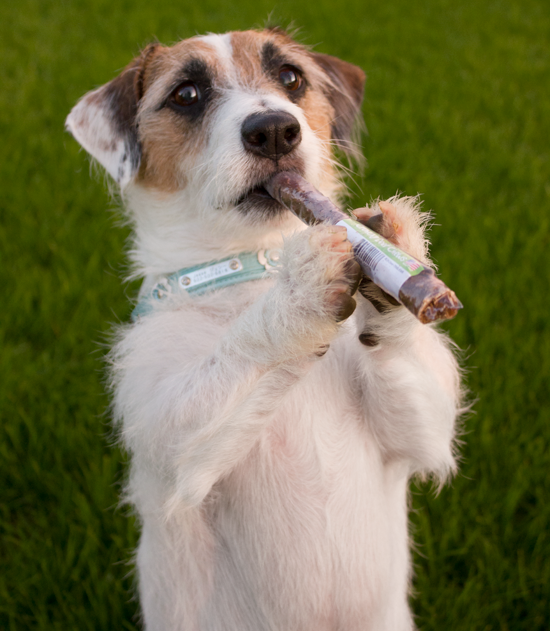 Jesse was a very happy pup with the November Bark Box! He loved every item in his box.
Being Thanksgiving this month, Jesse was very grateful for all the treats he received.
We hope everyone had a Happy Thanksgiving this year.
Jesse and I are very thankful for all the amazing opportunities we have been able to be apart of, and all the amazing memories we have shared together. I am forever grateful for this little dog and all the adventures we have had; he truly has changed my life for the better.
For special holidays and events, I always love to make Jesse homemade meals.
This Thanksgiving I made him a Fall Omelet for breakfast. It was made of pumpkin, banana, cottage cheese, and eggs.
He was very happy, and danced around for his meal; licking the bowl clean!
For Dinner, Jesse joined in our Thanksgiving feast.
I made sure to prepare him a doggie safe bowl. He had turkey, some ham, sweet potatoes, and Yorkshire pudding. I mixed it all into one bowl, and he gobbled it up with delight.
He even picked up his bowl and sat up; asking for some more
(of course, I couldn't resist!).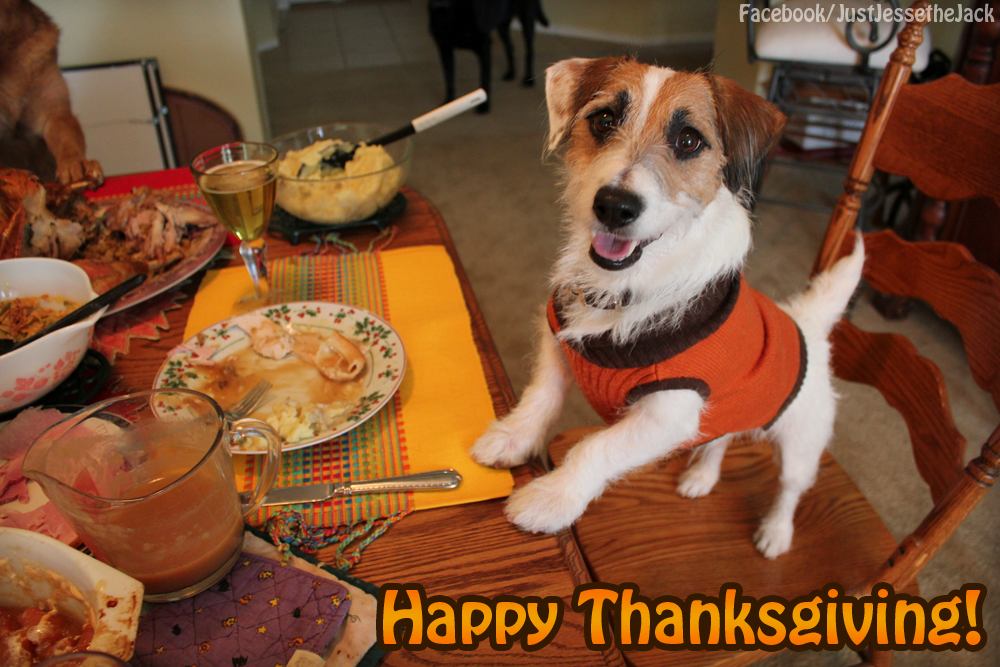 Happy Thanksgiving from our Family to Yours~