Jesse is a big fan of treats, so naturally he jumped
at the chance to review CANIDAE's new treats!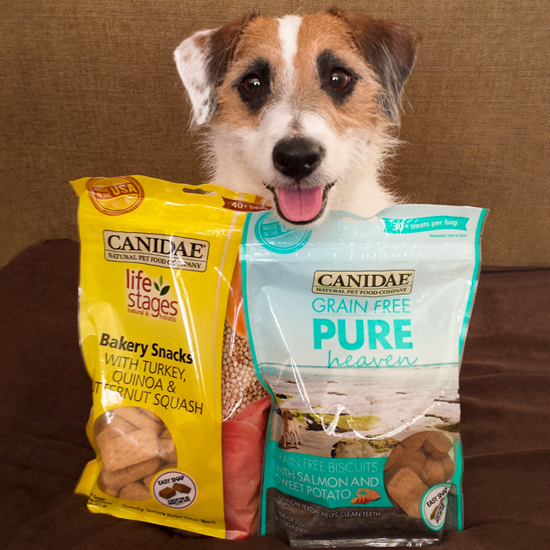 The Canidae Life Stages Bakery Snacks are natural and holistic crunchy biscuits made with Turkey, Quinoa, and Butternut Squash. These treats are made with 7 nutritious ingredients, and come in a crunchy texture that can help keep your pup's teeth clean. There are 40+ treats per bag; making Jesse a very happy pup! He happily gobbled up the treat; licking his lips and asking for more.
The Canidae Grain Free PURE Heaven Biscuits are crunchy biscuits made with Salmon and Sweet Potato. There are 30+ treats per bag, and wholesome ingredients packed into each treat. Each ingredient has beneficial properties and is put in these treats with a purpose. The Quinoa is a great source of protein and packed with nutrients. The Cinnamon is a healing spice, and full of flavor. The Extra Virgin Olive Oil has excellent fats and the added benefit of taste.
I'd say these recipes are perfectly combined because Jesse was a very happy puppy when I gave him one of these! After he ate his treat, he looked at me with those big puppy dog eyes, politely asking for another. Of course I gave him seconds ;o) These treats were also a big hit with my sister's dogs, Kaine and Lucky. Jesse was nice enough to share with both of them.
Both varieties of treats are oven-baked, with a short list of easy to read ingredients. There are no fillers, by-products, or artificial flavors; making each ingredient count. They are made in the USA with healthy ingredients. Both treats easily snap into two smaller treats; making them easier to use for training or to give to smaller dogs.
Canidae's products aren't just limited to biscuits. They also make all natural dry food, wet food, and jerky style treats in a variety of flavors. Jesse loves their grain free canned food stuffed in a Kong. =o)
Interested in trying out some of their products with your dog? You can see all their products and learn more about Canidae by visiting their Website, Facebook, and Instagram.
Canidae gives away free stuff every Friday in their weekly sweepstakes! Make sure to check out their Facebook to enter the sweepstakes, and "like" them for other exclusive offers, contests, and giveaways!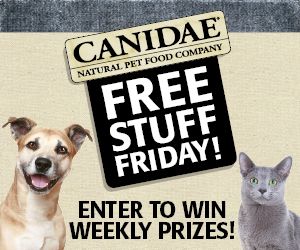 Jesse was very happy with these treats! Now he keeps asking me if he can try their other variety of treats and wet food. ;o)