Jesse and I had the opportunity to review an awesome new product called PupBox. PupBox is a monthly subscription service that delivers a box of goodies for your dog, or puppy, right to your front door.
Boy was Jesse excited when his PupBox was delivered!
He intently sniffed the box, and couldn't wait to see what was inside; he knew there was something special just for him~
The unique thing about PupBox is that they are targeted towards puppies.
Each
box includes age specific products and training guides for new puppy owners to help them through the wonders and joys of puppyhood.
PupBox has adult boxes too, but we have never seen a box delivery service targeted especially for puppies before; making it all the more exciting to review a box with puppy stages in mind. We were sent a PupBox for 6-month old puppies, so it is only appropriate to include Jesse puppy pictures in our review. =o)
All of the items inside can safely be enjoyed by Jesse,
and he doesn't mind that the box is labeled for puppies, since he is a puppy at heart

♥
Our PupBox came very fast!
When we received the package, I was very impressed with all the contents inside. Looking through the items, I knew Jesse was going to love his goodies.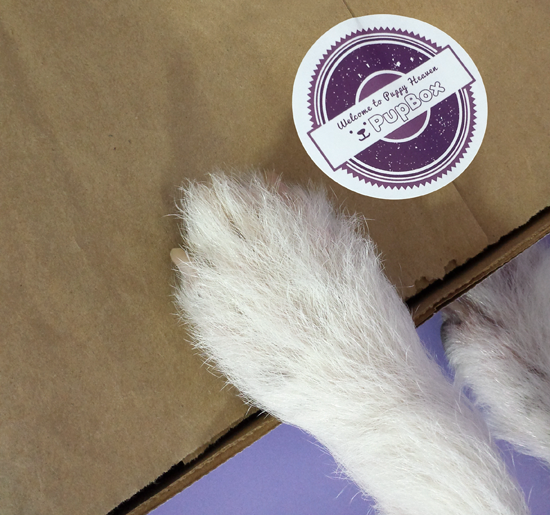 "The packaging for the PupBox and logo is super cute!"
Jesse's 6-month old PupBox came with Crumps' Naturals Liver Treats, Patchwork Octopus Plush, Waggers My Little Wolf Soft Treats, Barkworthies Sausage Roll, NanDog Bone-on-a-Rope Tug Toy, Organic Oscar Lavender Puppy Shampoo, and a card of Training Tips and Information for a 6 Month Old Puppy.
The

Crumps' Naturals

Liver Treats are 100% baked beef liver. They have a nice crispy texture, and can easily be broken up into small pieces to use as training treats, as well as for anytime treats. They are made in Canada from locally sourced human grade ingredients. There is only one ingredient: Baked Beef Liver; without any additives, artificial colors, or preservatives.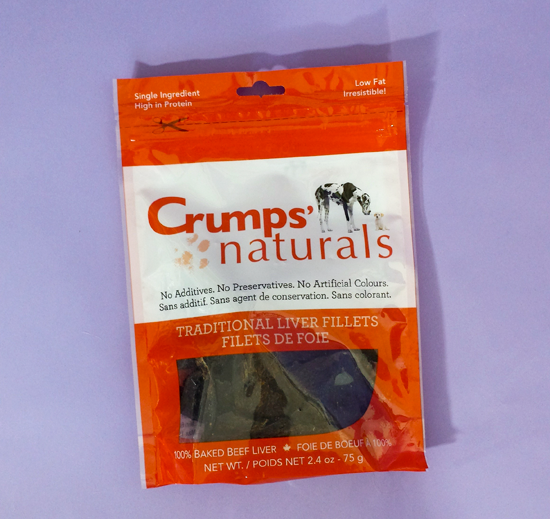 Jesse is a big fan of treats, and I have always loved to pamper him with a variety of tasty treats just for being such a wonderful dog.
He would have loved these treats as a puppy as he does now.
♥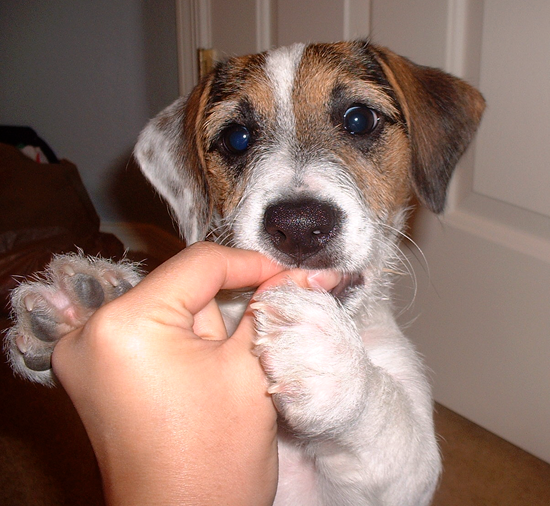 "Nom, nom, nom!"
The Patchwork Octopus plush is made of soft materials and has a big squeaker inside; making it a perfect toy for a Jack Russell Terrier!
Jesse makes it his mission to de-squeak toys
(which is why one of his nicknames is Squeaker!) and loves to chase, tug, and de-fluff his plush toys.
He never eats the fluff, toy, or squeaker; he just makes sure to remove the small piece that makes the squeaking sound from the squeaker and spits it out. =o)
"Jesse squeaking his plush ball as a puppy; a few minutes away from seeking out the squeaker"
The Waggers My Little Wolf Dog Treats are soft, moist, and grain free treats. We received the Duck flavored recipe. These treats are USA made, grain free, and made without corn or wheat. They are not greasy, making them the perfect soft treat to use on the go, without worrying about making a mess.
When I opened them, Jesse came over and sat on his hind legs; begging for one.
He has done this adorable behavior since he was a baby (some things never change)

♥
He taught himself this trick at 9 weeks old.
Jesse has always been a fast learner; understanding what I am saying to him and communicating how he is feeling and what he is thinking to me with his soulful eyes.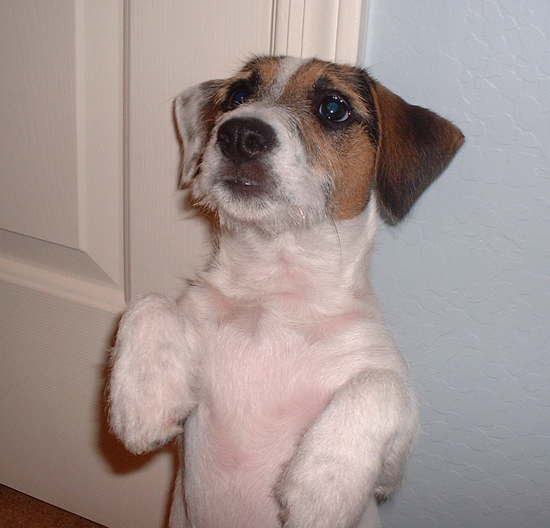 The
Barkworthies
Sausage Roll is an item I have never seen before. We are fans of this company; Jesse loves their bully sticks, junior bullies, and bully flakes. The chew is made of pork sausage and wrapped in pork skin. A yummy double layer treat Jesse couldn't wait to get his paws on!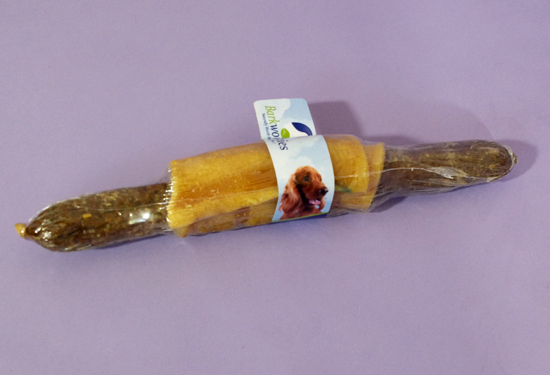 Jesse has enjoyed a variety of chewies from the day he came home at 8 weeks old, and is still trying new chews all the time =o)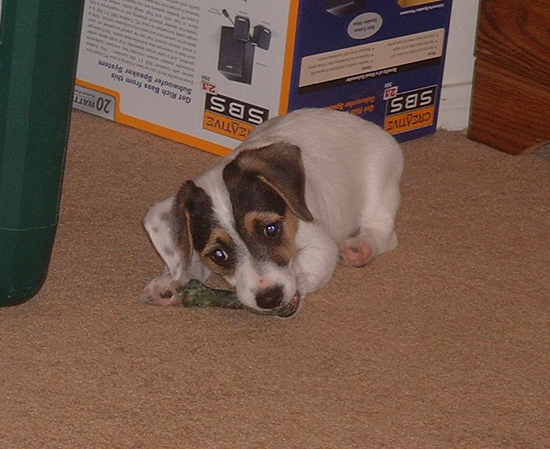 Depending on the type of chew, Jesse will hold the treat down with his paws and nibble it with his front teeth
(other times he will hold the chew with his paws, and chew away with delight).

♥
The NanDog Bone-on-a-Rope Tug Toy is made of a durable rubber bone, attached to a strong rope; making it a perfect tug and toss toy. This toy is great for a 6-month old puppy as it can help exercise their jaws and provide a fun game of tug-of-war.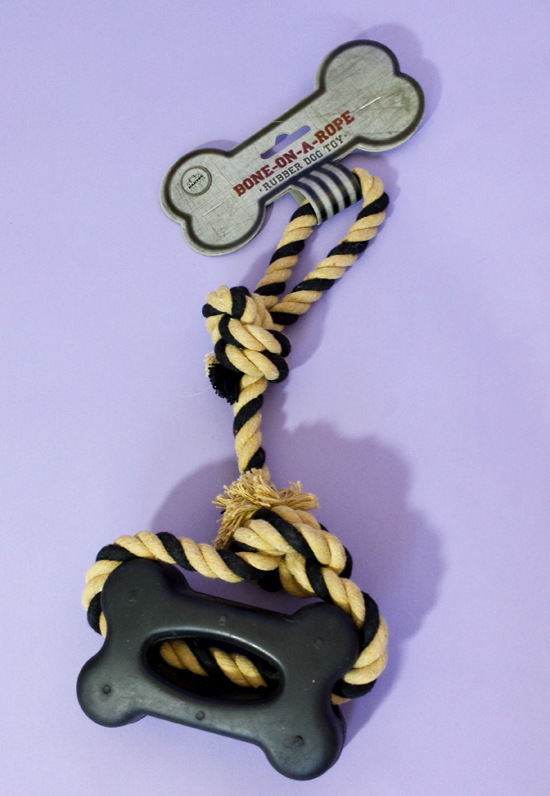 Jesse is a champion tugger, and has been since he was little. His favorite tug toy as a puppy was a red and white rope toy tied into a ball on the end. He would chase and catch the toy, and hang on with his mighty Jack Russell grip.
"Small but Mighty Jesse playing tug as a puppy"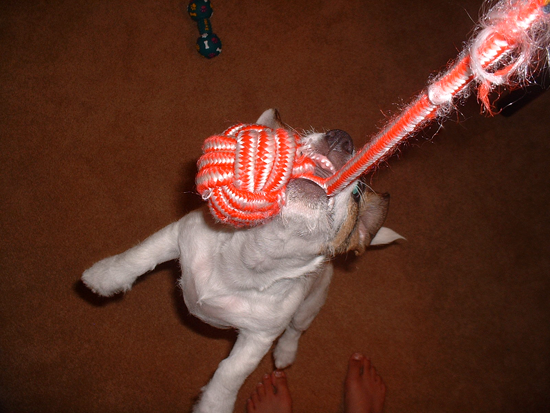 "Jesse showing how determined Jack Russells are"
Playing tug is still one of our favorite games, and the Bone on a Rope toy is a nice toy that will stand up to our vigorous play!
The Organic Oscar Organic Lavender Puppy Shampoo is made in the USA, and includes no parabens, artificial fragrances, dyes, or petroleum based ingredients. The bottle is uniquely bone shaped; adding to the overall cuteness of the packaging. We are familiar with this company as we have used their Shampoos in the past and really enjoyed the quality of their products.
Jesse is a very good boy, and doesn't mind getting baths. He always feels better being clean; zooming around the house like a white bullet and giving the sweetest kisses while being dried with a towel.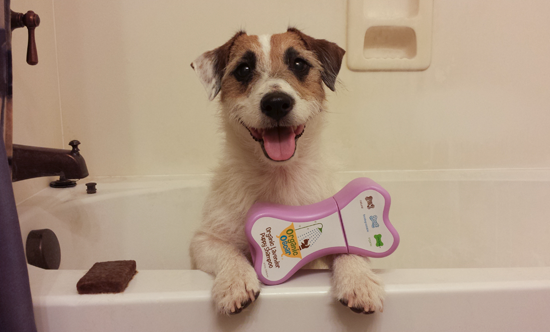 The Puppy formula is made with certified Organic Lavender which has calming properties; helpful for puppy's first bath time.
The shampoo smells wonderful; leaving Jesse's coat soft, fluffy, and smelling delicious. The Lavender leaves a nice scent on Jesse, making it extra nice to cuddle up on the sofa together or curling up in bed for a good night's sleep.
The Training Tips and Information card was one of the coolest things about the PupBox. I love learning anything I can about dogs and the lessons we can learn together as a team. The information contained in the PupBox was not only easy to understand, but encourages doggie parents to teach their puppy manners and skills to last a lifetime.
Teaching puppies many useful skills strengthens our relationship and bond with them, and sets the path for a wonderful life together. Jesse and I have been learning from one another from the day we first met; when he was only 3 weeks old.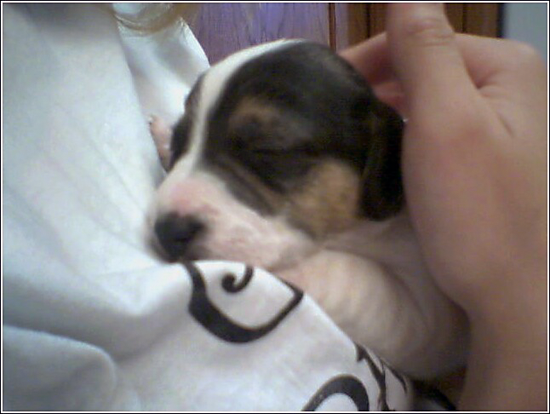 Puppies are like little sponges; continually learning and exploring their world with eyes of wonder. It is our job as their guardians to educate them and teach them the skills needed to have a wonderful life together.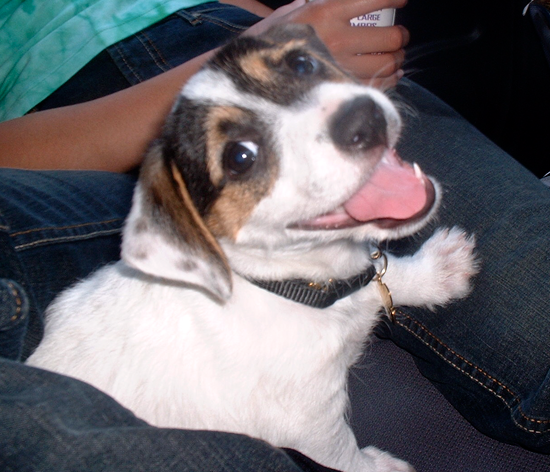 Teaching using Positive Reinforcement and having a relationship based on trust, mutual understanding, and respect goes a long way in building a beautiful relationship. From day one, Jesse and I have had the relationship of best friend, teacher, and protector. He truly is my Heart Dog, my world, and my soul.
I swear he teaches me more than I could possibly teach him. =o)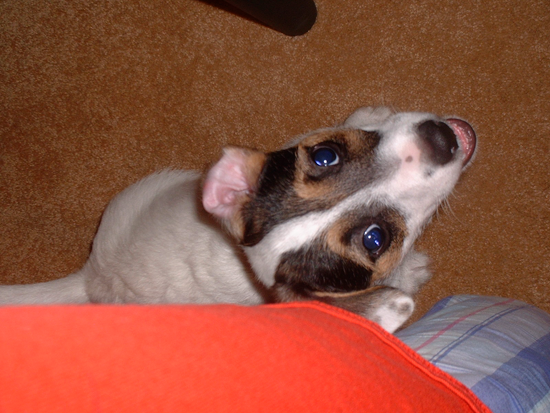 The PupBox is by far the most unique delivery service box we have seen.
Jesse and I absolutely loved it!
I wish they had this sort of service when Jesse was a baby.
I know I would have pampered him with his own PupBox every month to celebrate the start of our journey together and to give Jesse something special for all the happiness he brought into my life from the moment he came home.

♥