This post is sponsored by Bayer® ExpertCare™ and the BlogPaws Influencer Network. I am being compensated for helping spread the word about Bayer ExpertCare products but, Just Jesse the Jack, only shares information we feel is relevant to our readers. Bayer ExpertCare is not responsible for the content of this article. #ad
When it comes to keeping our dogs happy and healthy, grooming is a major part of everyday life; especially for long haired pups. Grooming includes keeping dog's nails clipped, ears cleaned, coat washed, blow-dried, combed, and teeth brushed.
I personally do all of Jesse's grooming myself, at home. When I heard about the grooming products offered at PetSmart by Bayer® ExpertCare™, I jumped at the chance to try them with Jesse!
I am always looking for cleaning and grooming products to help Jesse feel the best me can, and to get rid of any dirt on his fur from a romp in the desert or hike in the mountains.
Bayer's line of products in their ExpertCare line is perfect for at-home grooming and is specially formulated for Dogs and Cats.
Bayer ExpertCare products are available exclusively at PetSmart
, so Jesse and I headed to the store for some shopping. :)
We found the ExpertCare line in the Health and Wellness section of the store. The items were separated into categories including First Aid, Allergy, Ear cleaner, and Shampoos.
Jesse and I picked out the 3 items I know we'd use, including one I really wanted to try out. I had never heard of a spot-on skin moisturizer for dogs before.
We picked out the ExpertCare Grooming Oatmeal Shampoo, the ExpertCare Skin Cleansing wipes for skin care, and the ExpertCare Spot-on Skin Moisturizer for dogs. I was really excited to start using these products with Jesse! :D
The ExpertCare line has many more products including probiotics, ear wash, anti-itch cream, conditioners, and cleansing foam (among others), but we didn't purchase these this time. I will go more in-depth about all the products we did purchase in future posts, but for now, I will share our experience with the Bayer ExpertCare Grooming for dogs Oatmeal Shampoo.
The shampoo is made of Colloidal oatmeal, Aloe Vera, moisturizers, and is soap-free. The shampoo is also Hypoallergenic, making it an excellent choice for dogs with sensitive skin, as well as their person bathing them, and coming into contact with the shampoo. Being soap-free, the shampoo will not strip the skin and coat of important protective oils.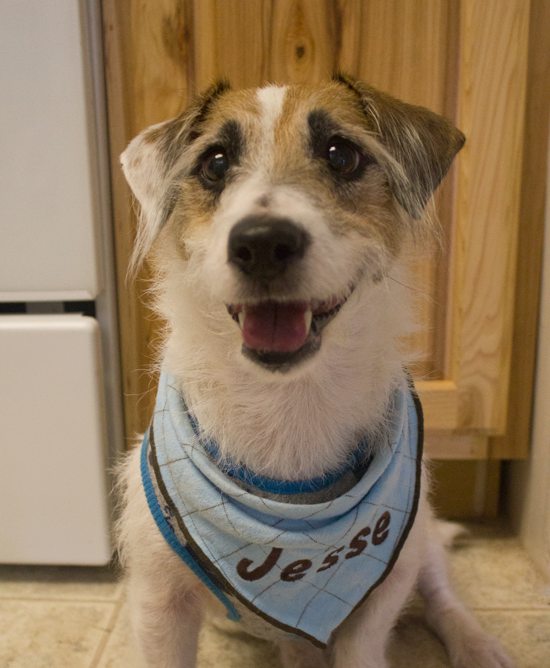 I chose this shampoo because it contained Aloe Vera and Colloidal Oatmeal; both ingredients used to restore moisture and help with itchy or dry skin. After hiking in the mountains, Jesse comes into contact with some prickly plants that have a sting. I wanted to use this shampoo to help with the irritation of those types of plants, so that Jesse could still enjoy these fun walks, without being irritated by the plants afterwards.
I got Jesse ready for his bath by putting down a non-slip mat on the bottom of the tub, grabbed some treats, the shampoo, and a towel to dry him off afterwards.
Jesse knows how to jump in the tub, and got in when asked; ready for his bath.
I made sure to wet his coat thoroughly, and lathered up his coat with the shampoo. I liked that the shampoo didn't have an overwhelming smell like some of the soap shampoos I have used in the past (mostly formulas with tea tree oil). It was more of a pleasant flowery smell. I covered all his fur with the soap; being careful to avoid getting any in his eyes or ears.
I then rinsed Jesse off, again avoiding getting any water in his eyes, nose, or ears. I use my hand as a shield so that the water cannot get past, into his eyes.
Once the water ran clear, without any bubbles, Jesse was ready to be dried off!
I remove any water collecting on Jesse's fur like a sponge; gently squeezing off excess water with my hands, before wrapping Jesse in a towel to dry him.
Just using a towel on Jesse doesn't get him completely dry. I use a doggie blow-dryer to fully dry his coat, so he doesn't get any sores or hot spots on his skin, under his fur.
Once Jesse was all dry, he was so fluffy!! Even after I brushed his fur, he was still super floofy :) He was very soft, and smelt really good!
I put a sweater on Jesse to keep him warm,
and gave him a chewie for being so good while taking a bath.
(and I am happy to have a clean doggie!)
Have you tried Bayer ExpertCare with your dogs or cats, or are you thinking of trying one of their products? I know we are happy with the results so far :) Jesse had a very busy past week, and was really dirty before his bath. He still looks and smells clean, days later after his bath. I loved how the shampoo made Jesse's fur feel too.
We will have more progress posts with our other items once we have used them for a few weeks; and not just a couple of days. If you decide to try a product from this line, we hope you like it as much as we do~