Jesse and I had the opportunity to attend the 2015 Purina Better With Pets Summit in Brooklyn, New York City on November 3rd, 2015! :D
The mission of the Purina Better With Pets
Summit is "Exploring the Best Ideas for Bringing People and Pets Closer Together." The event brings together the brightest minds in pet science and culture. This year's Summit is all about how to better bond with pets, the emotional wellness of pets, and the people who love them.
Jesse and I woke up early on Monday morning, November 2nd, and headed to the airport for our 7am flight to be in New York City for the Summit the next day.
We arrived in New York City in the middle of the day, and got to our hotel in the late afternoon. Once at the hotel, Jesse and I settled in. I unpacked the items I would be using that night, and got my bag ready for the Summit the next day.
We heard a knock on the door, and I opened it to find a man giving gift bags to the attendees of the Purina Better With Pets Summit. He handed me the bag, I thanked him, and went back inside my room. Jesse was really interested in the bag! I let him see what was inside, but it was all people snacks.
Jesse and I walked around the block, exploring the city's sights and sounds, before heading back to the hotel for Jesse's bath.
I gave Jesse a bath so he was nice and clean; ready for our big day the next day!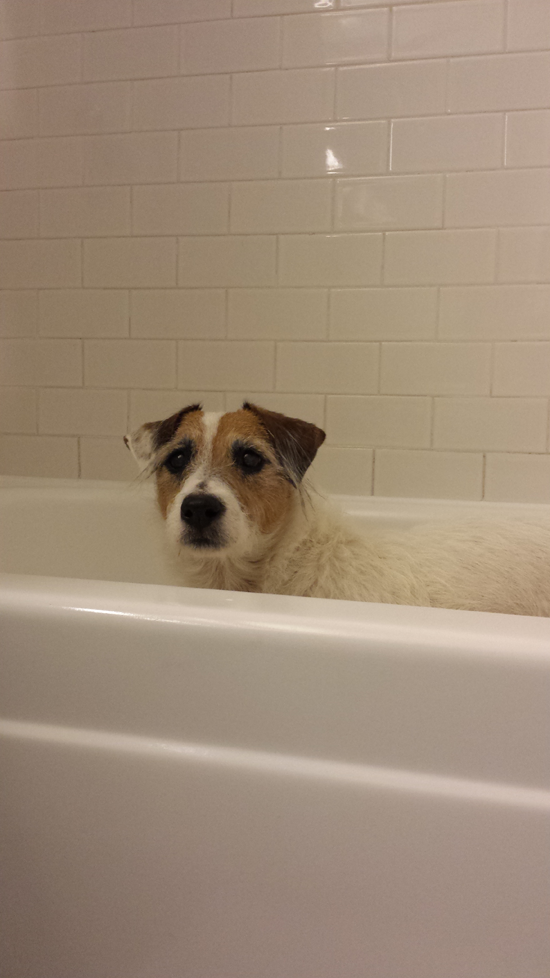 I brushed and blow dried him, and afterwards he curled up under the covers to stay warm.
After Jesse was all clean, I ordered room service for our Dinner.
What is a hotel stay, without room service? ;)
(I always order Jesse some milk, and give him a bit of the food he can have)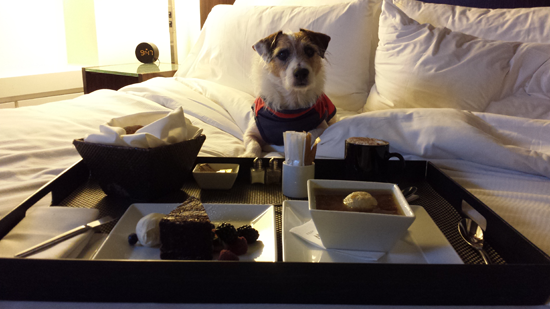 We went to bed early that night. After a full day of travel we were both exhausted! I set my alarm for the morning at 6:00am, and went to sleep.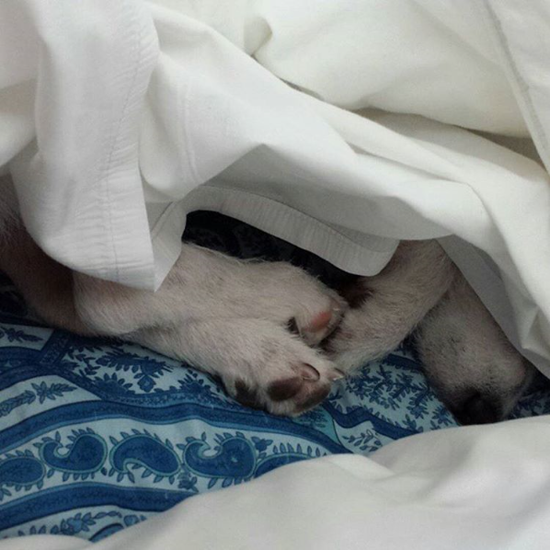 Jesse and I woke up bright and early on the morning of November 3rd! I quickly got all my stuff together, gave Jesse his breakfast, and we headed out the door. The buses arrived at 7:30am to take the attendees to the Brooklyn Expo Center for the event. Before getting on the bus, I grabbed a breakfast sandwich and a blended coffee drink, and then we boarded the bus. Jesse got the window seat, and I got the aisle seat. :) Jesse likes to look out the window to see where we are going~ After we headed out, Jesse had some whip cream from the top of my coffee drink, and curled up on the seat to catch some z's before arriving at our destination.
When we arrived at the Brooklyn Expo Center, Jesse and I got in line to have our suitcase and bag checked before entering the event.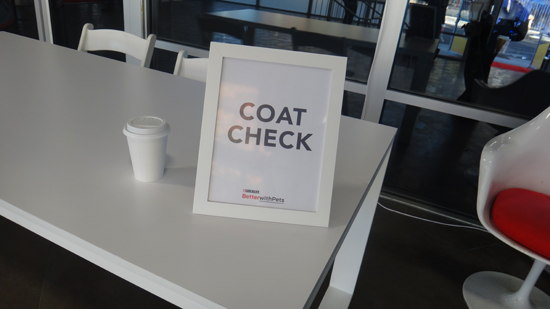 We headed to the registration table, walking down the red carpet, to get my badge for the day. Jesse got his picture taken by a few photographers while we were waiting.
I got a drink from the food tables, and then Jesse and I took our seats; ready for the full-day of interesting presentations!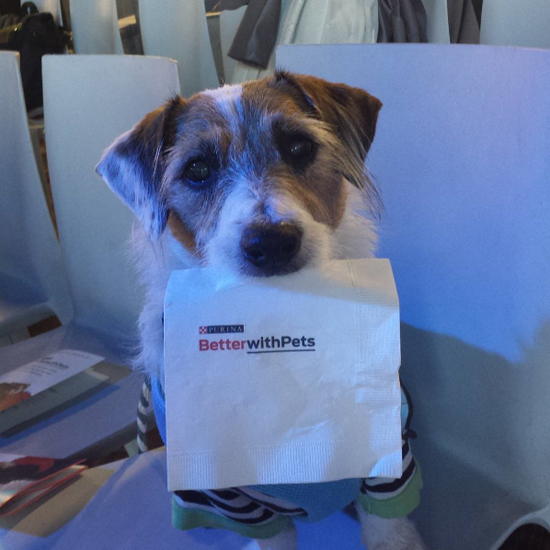 At 9am sharp, the Summit started. This year's theme spotlighted on emotional wellness of pets; showcased through panels and presentations, and immersive exhibitions. Josh Gondelman was the Better With Pets Host; welcoming everyone to the event, and introducing us to the first Keynote speaker, Dr. Arleigh Reynolds. Dr. Arleigh Reynolds spoke about the sled dogs in Huslia, Alaska who helped change the whole town. Dr. Arleigh is a Senior Researcher at Nestlé Purina and evaluates the impact of nutrition on performance in sled dogs; using them as a good model for all working dogs. You can learn more about the amazing work Dr. Arleigh does in Huslia, Alaska, by watching the video below:
After Dr. Arleigh's presentation, Panel 1 took to the stage. Panel 1 included Hal Herzog, Sandra Lyn, Christina Ha, and Mikel Delgado; speaking about "An Evolving Relationship with Cats?" The speech delved into the relationship between people and cats; looking at the new generation of pet owners, and talking about internet cats, and discussing the roles they play in today's society.
Christina Ha, co-founder of Meow Parlour, spoke about the first ever USA Cat Café that opened up in New York City in December of 2014!
http://www.meowparlour.com/
I have heard of Cat Cafés and Dog Cafés in Japan, and have always loved the idea.
♥
What is really cool about the Meow Parlour is that the cats you can play with in the Café are from shelters, and are available for adoption. The Cat Café is a great platform for people to meet cats that need a home, play with cats for those who can't have a cat in their apartment, or for someone who wants a peaceful environment to relax in with cats. Cat Cafés are beneficial to both people and the cats. Stroking and playing with the cats helps reduce stress levels in the person, and in turn the cats get socialized and learn to be okay around people who respect their space and let the cats come to them.
After Panel 1 spoke, Panel 2 was ready to speak. Panel 2 included Marty Becker, Ragen McGowan, Heather Lewis, and Tony Buffington; speaking about "Stress, Our Pets and Us." This presentation discussed the sources and effects of stress on our companions, as well as ways to help manage stressors; enhancing the overall well-being of pets. We were taught signs of stress in dogs including excessive yawning, licking lips, trembling, avoiding, and hardening of the eyes.
Although I did know these signs, being interested in reading and researching dog behavior books; soaking up the knowledge and excited to learn more, I am always fascinated in learning more!
We were also told ways to reduce stress in our pets, including using music to help calm them, reduce triggers that you know will stress them, and how to decrease stimulants that cause more stress. I use classical and piano music with Jesse, just to help him enjoy relaxation and have a peaceful environment in our home.
~
After Panel 2 spoke, it was time for Panel 3. Panel 3 included Zara Boland, Jayne Vitale, Stasha Becker, Ilana Reisner, and Charley Bednarsh; speaking about "Raising Pets and Kids." This presentation was about the numerous contributions pets make in the lives of children; from companionship, therapy, and rehabilitation, to curriculum.
After the Panels spoke, it was time for lunch!
Jesse and I went outside so he could have a potty break. We walked around a bit and did some tricks.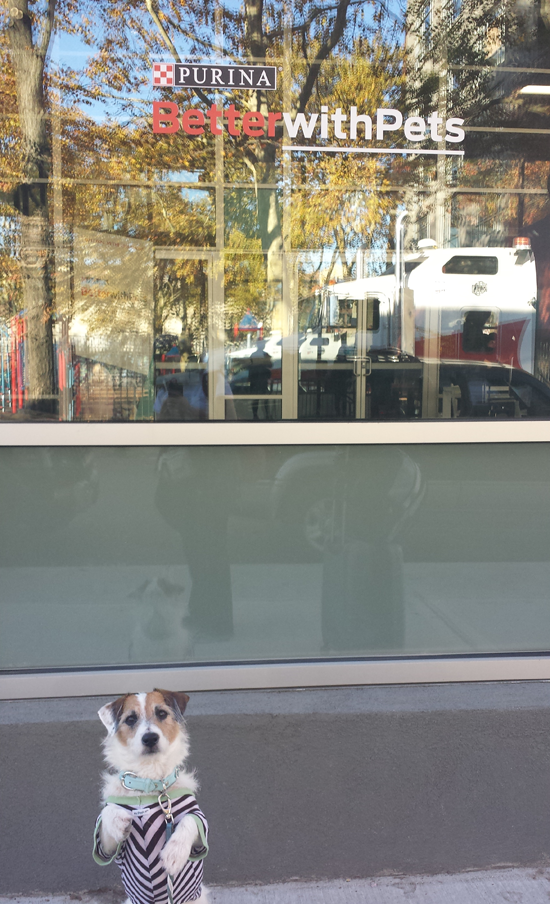 When we went back inside, I grabbed some food and drink; watching the exhibits open. As soon as we got the chance, Jesse and I checked them out. There were so many interesting exhibits!
~
There was a Cat Environment exhibit, Your Pet's Purpose exhibit about Service Dogs, a Finding Food for your pet exhibit, Nutrition exhibit, Reading Your Pet Exhibit with infrared to detect the stress levels in pets, a Cognition exhibit, and a Play Lab exhibit in the heart of the Better With Pets Exhibit hall.
We explored the different exhibits, and read the information at each one. There was so much fascinating stuff at each display to digest!
Jesse and I looked around at the Better With Pets display, watched the dogs in the Play Lab do agility, as well as some tricks, we met Andrea Arden and got Jesse's picture taken with her, we looked at the infrared exhibit and saw dogs stress levels, met Tuna from Tuna Melts My Heart, looked at the cat's play room, read the nutrition information, learned from the cognition exhibit, and absorbed more information from the Service Dogs booth.
After the fun 2 and a half hours at the exhibits, it was time for the second Keynote speech from Carole Radziwill. She spoke about her life experiences with pets growing up, her first dog as an adult, and her current puppy; Baby. Carole Radziwill's presentation delved into the wonderful way dogs can bring people closer together, and help them bond over similar interests.
The 2015 Purina Better With Pets Summit came to a close at 4:00pm. Josh Gondelman, the host, made closing remarks, and thanked everyone for being here, as well as making the event a success!
After closing, there was a reception with a happy hour. Jesse and I would have liked to stay and converse more with the attendees, but we had a flight to catch, and took a taxi to the airport.
~
The whole day was such an awesome experience! It was absolutely amazing to hear speeches from people who love their pets as much as I do. Everyone at the event was likeminded in this aspect, and it was so refreshing to be with people who understood how wonderful a beautiful bond with your dog or cat can be. Pets can enhance our lives, teach us many lessons, and become our greatest friends. I knew the moment I brought Jesse home, he would change my life forever, for the better. I am forever grateful to him for the many adventures we have been able to go on together as a team. I truly love this little guy with all my heart.

♥
What are your favorite ways to play with your pets,
and your favorite story about them?

(More pictures coming very soon!) :)