This post is sponsored by Blue Buffalo and the BlogPaws Professional Pet Blogger Network. I am being compensated for helping spread the word about BLUE Santa Snacks, but Just Jesse the Jack only shares information we feel is relevant to our readers. Blue Buffalo is not responsible for the content of this article.
When it comes to Holidays, Jesse and I love celebrating! Whether we dress up, give gifts, decorate the house, or make special treats for the different Holidays, we love being festive!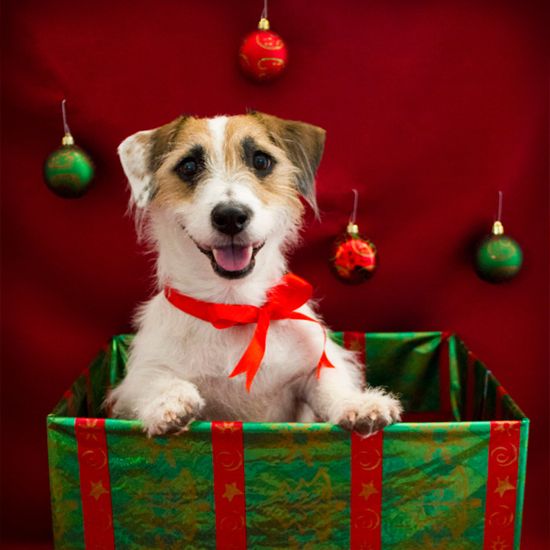 One of my favorite parts of the Holidays is to make Jesse special meals~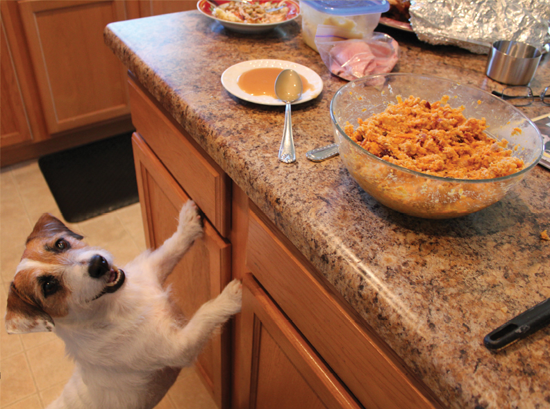 Special treats go along with that too. :) I like to make Jesse themed treats to go along with the various Holidays. Over the years I have made him many treats ranging from carob chip cookies, frosted cookies, chicken jerky, and beef jerky, to milk drop cookies, and chicken strips with a dash of rosemary and oregano
(all of these made with ingredients that are safe for dogs to eat, as well as being human-grade).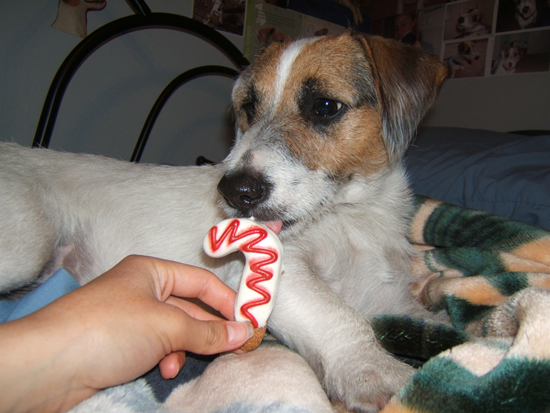 I think it is awesome seeing a great selection of Holiday-themed treats in store to choose from.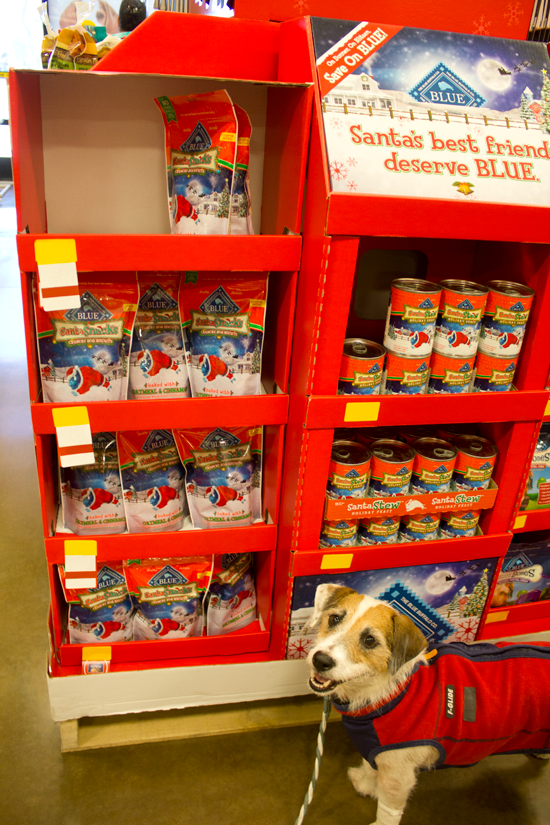 The BLUE Santa Snacks are limited edition, holiday-themed treats,
from Blue Buffalo .
Each bag is made with natural ingredients including Oatmeal, Cinnamon, Pumpkin, Carrot, Barley, and Flaxseed; free of any by-products, corn, soy, or wheat. These are healthy dog treats, made with natural ingredients. :) Blue Buffalo also has a special edition stew for the Holidays called BLUE Santa Stew Holiday Feast .
We will have to try this food next time we go to the store. :)
Both the snacks and stew are a part of Blue Buffalo's Seasonal Sensations line; including celebration items for Independence Day, Halloween, and Valentine's Day! Each recipe is available for a limited time, so Jesse and I will have to go shopping for the Holiday Feast before Christmas.
Although it isn't time for Santa Paws to give out these treats yet, I did let Jesse have a few. :) Just like I get an advent calendar counting down to Christmas, I give Jesse a special treat each day leading up to Christmas.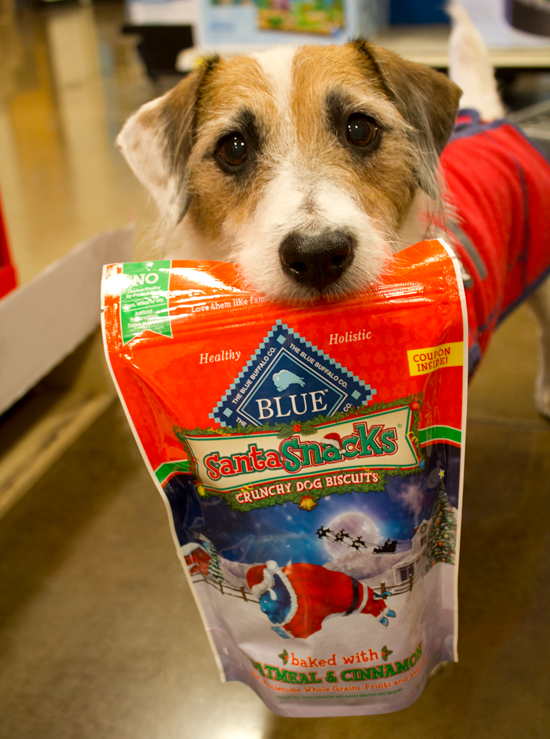 The BLUE Santa Snacks are crunchy dog biscuits that come in different shapes; doing a great job getting us in the Holiday spirit already!
:D
The treats are shaped like a Christmas tree, a star, and a gingerbread man.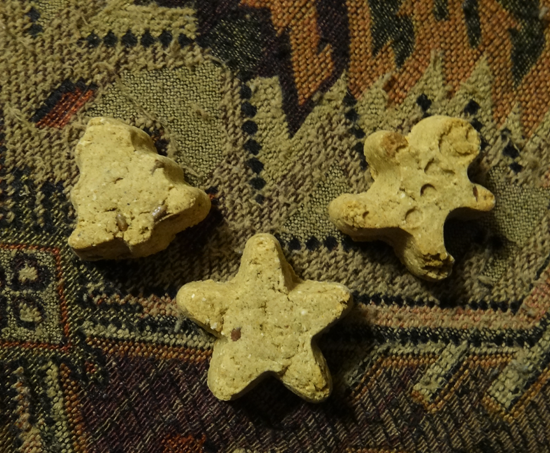 Jesse gobbled up the treat with delight, and licked his chops; drooling for another. The treats did smell delicious, so I took a bite of one. I already knew the ingredients were good, and the treats were made in the USA. The snacks tasted just like a human Holiday cookie, just without the strong taste of sugar. The treats are naturally sweetened with cinnamon and cane molasses, giving them a slightly sweet taste. If you didn't know they were dog treats, it would be hard to tell they weren't for people to eat! Haha
I am definitely going to be buying some more BLUE Santa Snacks when it gets closer to Christmas, to pass out to Jesse's doggie friends, as well as use as a stocking stuffer for Jesse. These treats make perfect stocking stuffers for dogs!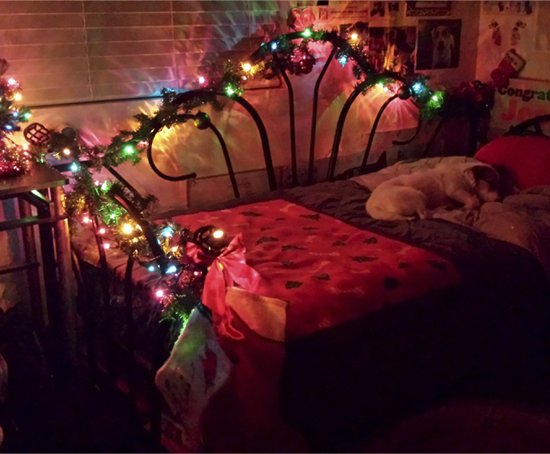 What I love about Blue Buffalo is that the company was inspired by their dog, Blue. Blue is the reason behind the BLUE Santa Snacks. Blue loved sniffing out his presents, and ripped the wrapping paper off of them. :) Knowing there is a dog behind this company, and him being the reason they were inspired to start making healthy dog food and treats, makes the company relatable and not a distant big corporation, which I like. I also really love the principle behind BLUE, "Love them like family. Feed them like family®." Jesse is my family, and I give him the best food and treats I can find.
~
Jesse does love opening up his own presents on his Birthday and during Christmastime!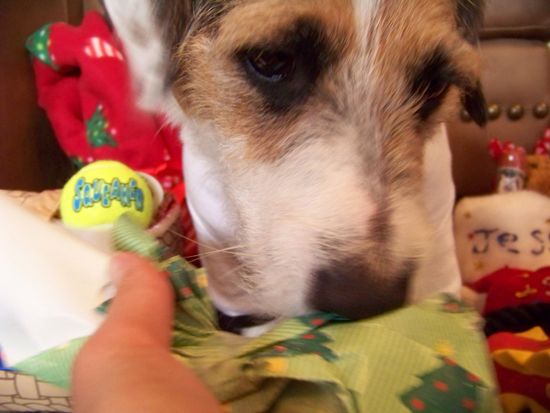 He knows which presents are his, searching them out on Christmas morning, and carrying them to me as if to ask if it is time to open them yet. :)
Christmas is a wonderful time, full of family time, delicious food, and exchange of gifts. It is one of our favorite Holidays of the year! I will be writing a post in a couple weeks' time about how I incorporate Jesse into the Holiday celebrations :)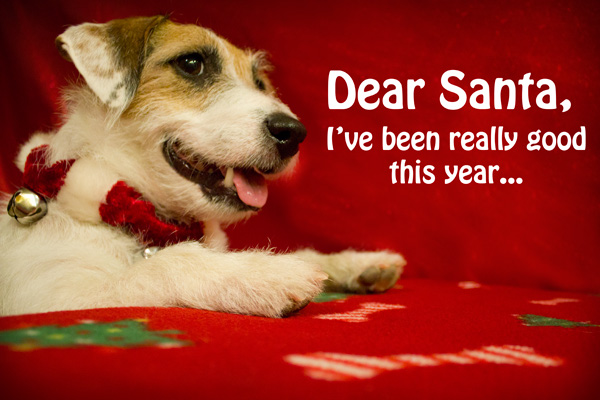 If you haven't tried the BLUE Santa Snacks yet with your pup, we definitely recommend you give it a try. The treats were a big hit here! Jesse shared some of his treats with Lucky and Kaine, and they both were begging for more. :)