This post is #sponsored by Blue Buffalo and the BlogPaws Professional Pet Blogger Network. I am being compensated for helping spread the word about BLUE Santa Snacks, but Just Jesse the Jack only shares information we feel is relevant to our readers. Blue Buffalo is not responsible for the content of this article.
Ever since Jesse was a young pup, we have celebrated Holidays together; with our favorite Holiday to celebrate being Christmas!
:D
During the month of December, there are many events around town to enjoy that help get even the grumpiest of Scrooges into the Holiday spirit. :)
Jesse is a major part of the activities we enjoy during Christmastime. He is always right by my side, ready to join in on the fun!
One of the coolest events to check out is the light shows close to us, with many venues having thousands of lights and including a festival to walk around town and enjoy the festivities. Jesse and I have gone to the Glendale Glitters for a couple of years now and have a lot of fun checking out the lights, walking around town to visit the shops with Christmas decorations, and stopping to get some winter drinks. Jesse gets some steamed milk for his winter latte - hold the coffee.
;)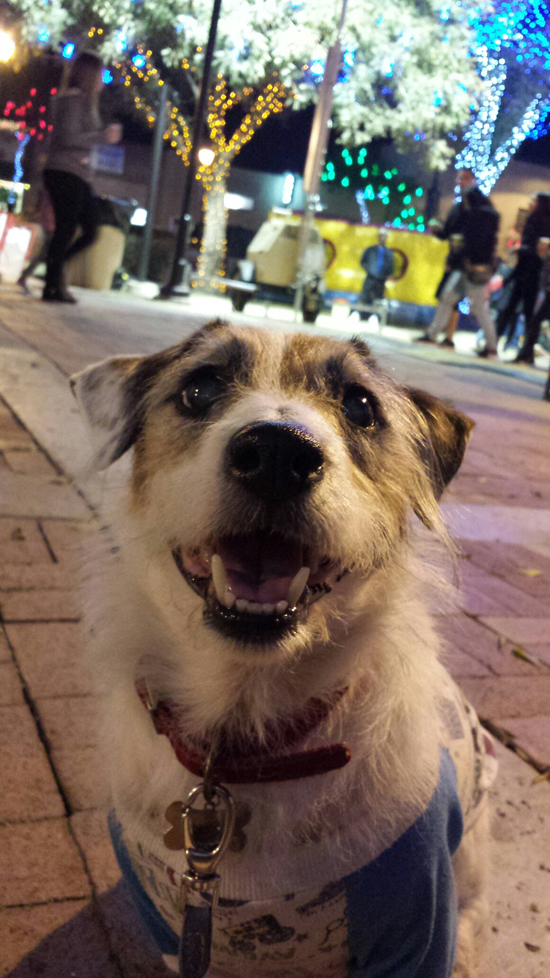 Another fun activity we love, during Christmastime, is that there are many Holiday festivals to participate in. Last weekend, Jesse and I went to the Holiday Pet Festival and celebrated Christmas fun at the all-day event!
We did some Christmas shopping, Jesse ran the lure course four times, and he had a clean run on the agility course!
Before the event, Jesse and I went to a Pet Store to get our annual Christmas photo with Santa. Jesse sat in Santa's lap, and smiled for the camera. :) We haven't received the photo yet, but I am sure it will be adorable!
I love getting a picture of Jesse with Santa. Most of the time they are taken at store events at PetSmart, or with a family member dressing up as Santa.
Picking out the Christmas tree wouldn't be fun without Jesse coming along with me! We always go to the tree farm to get our tree. Jesse loves looking around at the trees, sniffing in the pine scent, and watching the farm helper cut the end of the tree off, and load it into our car.
Decorating is also extra fun with Jesse right next to me, ready to lend a helping paw. If I drop an ornament, Jesse will carefully pick it up, and hand it to me so I can put it on the tree. :) I have many personalized Jesse ornaments that adorn the tree including a Christmas frame that has Jesse's picture in it, a clay mold of his paw print, a Jack Russell ornament with his name, and a figurine I painted in Jesse's likeness (among others).
Jesse and I also like to create fun, and sometimes educational, Christmas videos for our YouTube Channel. They always help us get excited for Christmas!
:D
Each night of December, Jesse and I like to go for a walk around the neighborhood to check out all of the Christmas lights. There is nothing like walking with a pup, to look at the lights, that gets you in the Christmas spirit. :)
This year, a lot of houses started decorating the day after Thanksgiving.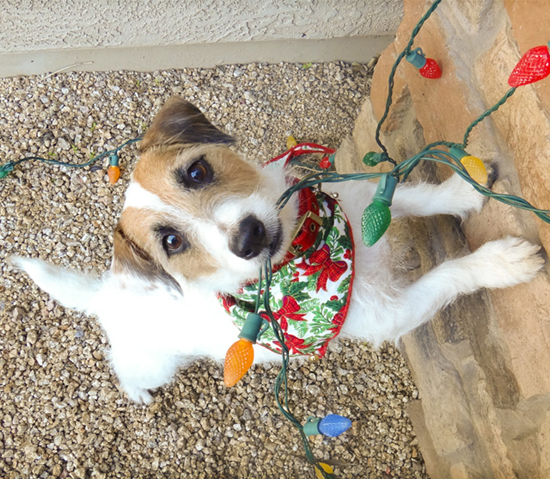 I love going shopping with Jesse during the Holidays at PetSmart. There is always a great selection of Christmas themed toys, treats, and clothes. I like getting Jesse fun Christmas and winter themed toys and treats for the Holidays.
One of my favorite things to do during Christmastime is get Jesse presents! He loves opening up his presents on Christmas day, and can pick his out from the rest of the gifts.
For Jesse's 1st Christmas, I had gotten him a really nice red sweater for one of his presents. I think he looked quite handsome in it. :)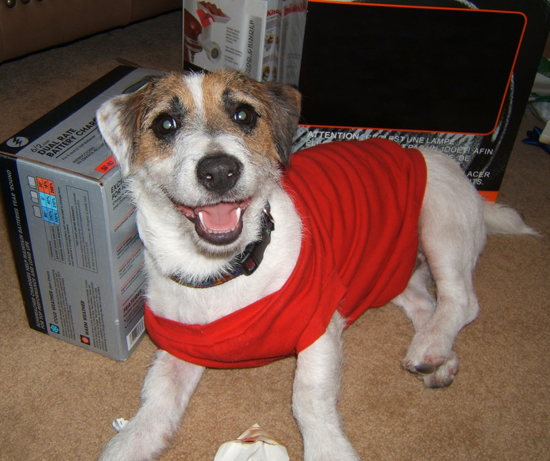 Now every year I try to find Jesse a really nice red sweater for Christmas, but hadn't really had any luck until this year. I found him a really nice sweater recently at PetSmart. The sweater is all red, with some really nice sparkles in it. :) (There will be some Christmas day pictures on Facebook with Jesse in his new sweater).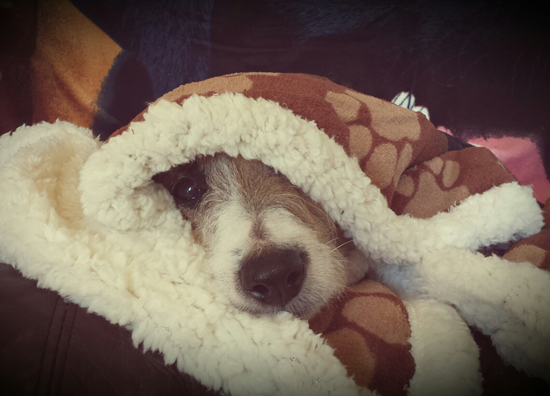 With Christmastime coming I like making Christmas cards (starring Jesse of course) to send out to friends and family. :) Jesse is always the center of my cards; wearing reindeer antlers, Santa hats, a bow, or posing inside a present. Dressing up is a very fun way for us to celebrate the different Holidays~
It wouldn't be the Holidays without sending out a Christmas card!
:D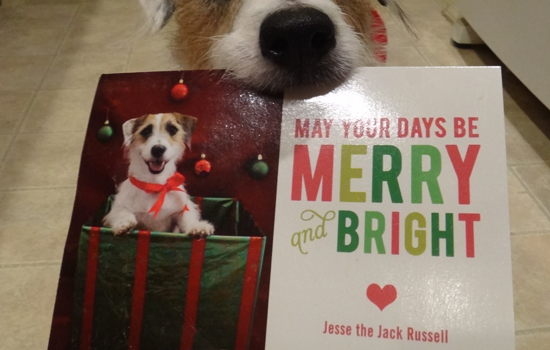 One of the best ways I can make Christmas special for Jesse is to give him his own special meal for Christmas Dinner. That's where Blue Buffalo™ comes in. :)
BLUE Buffalo makes a SantaStew Holiday Feast wet food that is perfect for Christmastime!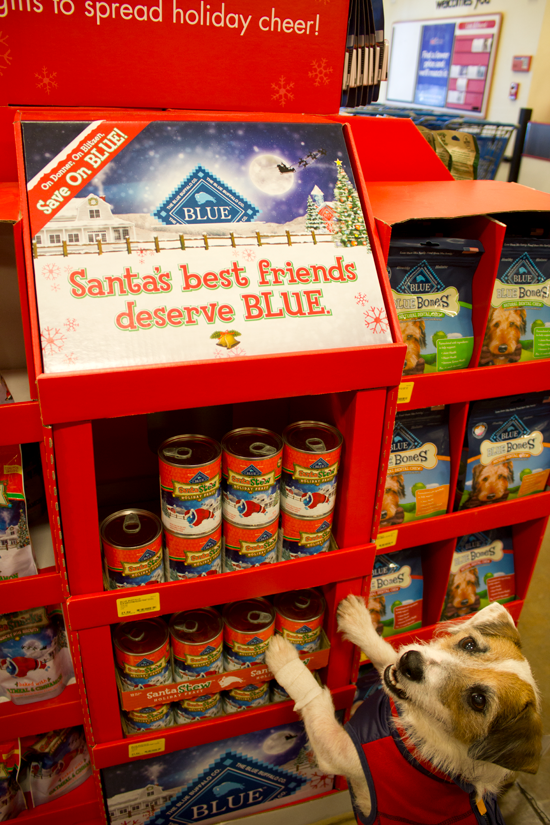 The food is grain-free, healthy, and holistic; made with only whole, tasty, natural ingredients dogs are guaranteed to love. :) Each recipe follows the True Blue Promise; always starts with real turkey, no wheat, corn, soy, or artificial preservatives, flavors or colors.
While most years I home cook Jesse his own doggie safe meal, complete with Christmas themed items, this year I will be giving Jesse his own BLUE SantaStew; mixed with some Yorkshire pudding. The SantaStew has turkey, turkey broth, cranberries, green beans, and sweet potatoes; all of the traditional Holiday Feast items for Jesse to enjoy alongside my meal! Jesse hasn't had this variety of the stew before, but has tried the formulas for different occasions including the BLUE Boo Stew
and the BLUE Love You Stew
.
Since family will be joining us for Christmas this year, with their four-legged family members, Jesse and I will be giving them their own BLUE SantaStews to celebrate along with us.~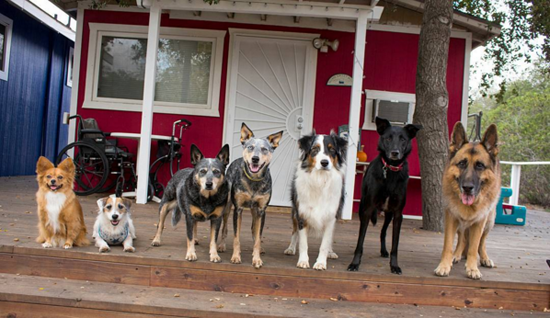 From left to right: Lucky, Jesse, Bella, Kronos, Terra, Lilly & Kaine
For an after dinner snack, I will be giving Jesse some BLUE SantaSnacks and homemade doggie cookies too. :) (Our doggie guests will have their very own goodie bags too~) These treats make excellent stocking stuffers for dogs!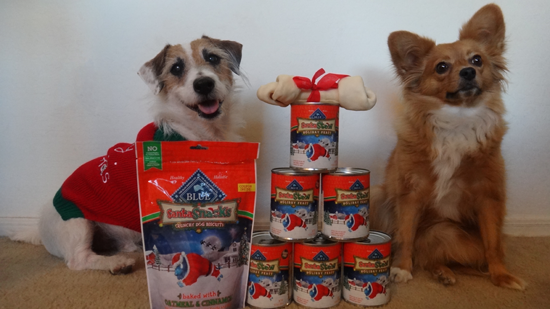 I think it is really awesome to see dog food companies creating special treats and food for various Holidays. I love celebrating with Jesse for every occasion. With cool treats, food, and toys that are Christmas themed, Jesse definitely won't be left out. :)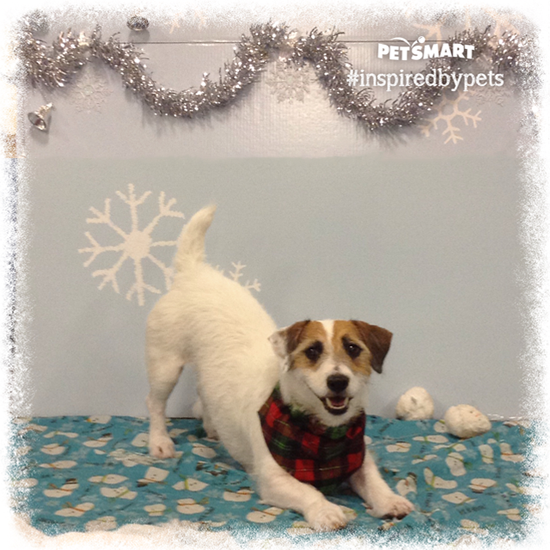 Are your dogs a part of your Christmas festivities? How are you and your pups going to be celebrating this year? Let us know below in the comments :)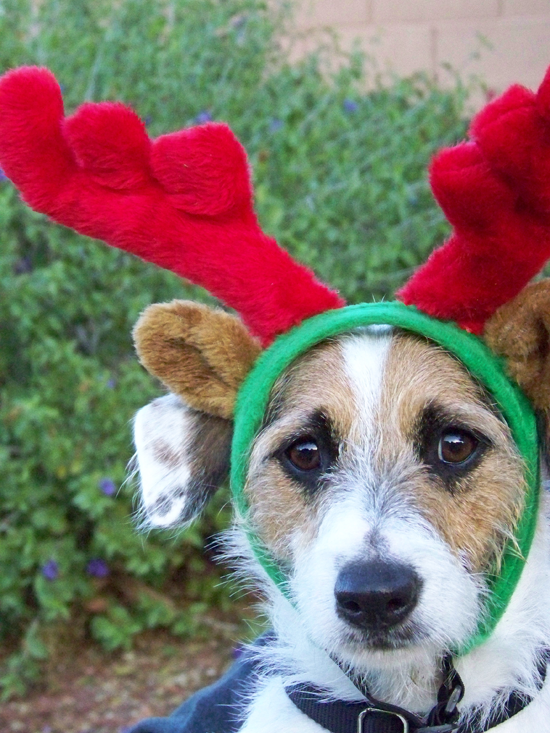 We hope everyone and every pup has a very Merry Christmas this year and a Happy New Year! :D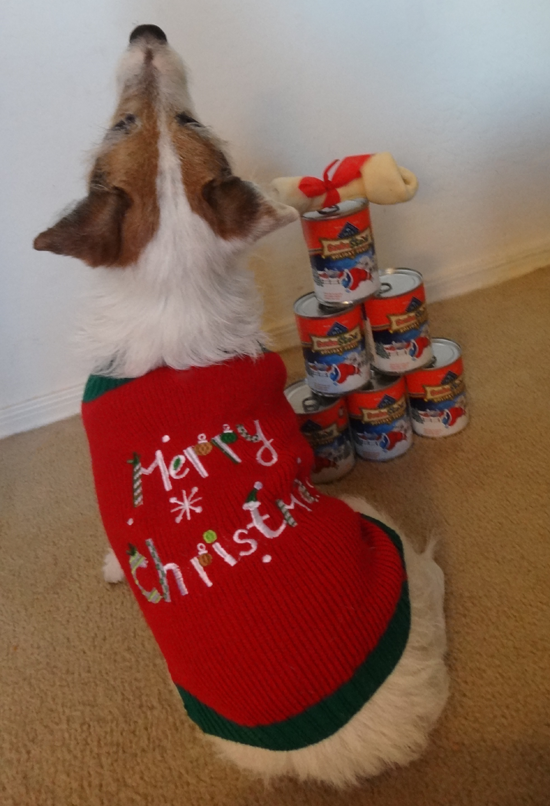 ~Heather and Jesse~